There's so much choice out there, it can be difficult to know where to start! No two petals & no two voices are the same. So, in response to that very question, and after discussing with a producer friend, I've whipped up the following recipe.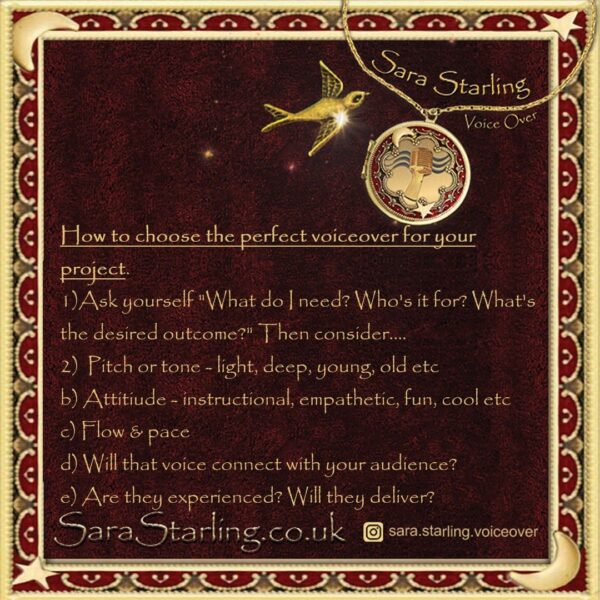 1.) Consider the genre and the context and ask yourself the following questions:
What do I need?
Who's it for?
What's the desired outcome?
2.) Think about pitch & tone. Do you need an older voice, a younger voice, or something in between? A deeper tone, or a lighter tone?
3.) What's the attitude you'd like to use to convey your message? Instructional, empathetic, fun, cool etc?
4.) Will the voice connect with your audience? This is key, because if you don't think it will, you're unlikely to achieve the outcome you're aiming for.
5.) Is the voice over experienced? Will they deliver quality? Will they deliver it on time
6.) Of course you may also wish to consider budget. This is a pretty good guide to rates (NB: Version 2 is due out very shortly).
https://rates.gravyforthebrain.com/

Of course, some clients also choose those whom they know & like. But the most important element to consider, is whether the voice will connect with the script and your audience, and inspire the desired outcome.
If deadline, budget and of course, the essential high standards of quality can also be met, happy days!
If you're still struggling, do get in touch & I'll do my best to help you. If I'm not the voice for you, I will happily recommend a colleague.
The voice you choose represents you, your product and your brand. Choose wisely.