I'm bound to say that the perfect voice over can be key to a cracking radio commercial, aren't I?! But it isn't just that, there are many things that, together, all add up to create a brilliant campaign. Why advertise on the radio at all, I hear you ask? Hop over to part 1 of this series to find out.
For me? The perfect commercial is one that stands out, that makes me feel something, makes me laugh, cry, touches me, inspires me. And when it comes to voicing? It's about all of those things. But the golden key is human connection. That's what my work is all about. Otherwise I really am just talking to myself!
But enough from me. Now, without further ado, I bring you yet more….
ADVICE FROM THE EXPERTS
In order to be as helpful as possible to you, lovely clients, I asked three questions of some seriously fabulous creative experts in the industry. They were so generous with their time and advice that I had too much information to squeeze into one blog, so this is part two of a series! Those cracking creatives are, in no particular order: –
Paul Burke (PB) – a multi award-winning writer, producer, director, he's also chaired juries for D&AD, Creative Circle & The Aerials. Oh yes, he knows what he's talking about!
Gerry Farrell (GF) – Creative Director at Gerry Farrell Ink, winner of numerous awards at Cannes and D&AD as well as serving on their juries, so you know, he knows what works.
Rick Loynes (RL) – award-winning commercial producer for Signal, now Bauer Media, he's also a talented musician, voiceover & a lovely chap to boot.
Olivia Downing (OD) – Copywriter at TBWA\MCR.
50 under 30 – The Drum's Outstanding Women in Creative and Digital and a real tour de force in the creative industry, championing both women & creative.
Tim Fortune (TF) – Producer at Global Radio for over 28 years, I think we can safely say he knows what's what!
Pam Myers (PM) – Radio & audio producer at Rorschach Ltd, she also happens to have been a member of theCannes Festival of Creativity Radio Lions jury, she knows a winning idea when she hears one!
James McCombe (JM) – Producer & Studio Manager at Maple Street Creative, he has his feet firmly on the ground.
Kieran Murphy (KM) – formerly of Global & Maple Street Creative, Kieran is has now been unleashed upon the world in his own right. He also happens to be a stand-up comedian, which might just come in handy!
2. WHAT MAKES THE PERFECT RADIO COMMERCIAL?
OD: "Personally, I think the best radio advertising always has two things in common: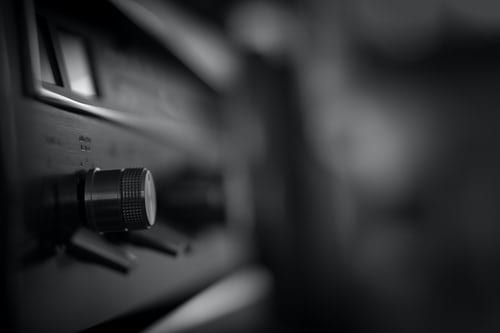 One clear message. It can be hard to get clients to hone in on one benefit/brand message for your audience to take away. But when you're working with 30s/60s time slots, one message is your best bet for both memorability and a good creative angle. Which leads on to my next point.
You are working with the imagination of your listener. When you're painting a picture simply with sound, the limitations you might usually face when shooting an ad or creating an out-of-home piece simply fall away. As a copywriter, this is why I always look forward to a radio creative brief. From a script perspective, literally anything is possible, if you can imagine how it sounds."
***
TF: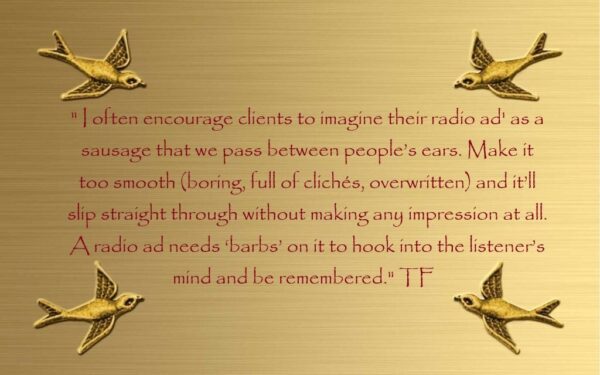 "I also remind clients that we all meet a lot of people as we pass through life and yet only remember the interesting ones. Dull, boring, generic people and radio ads rarely get remembered… so be brave!"
***
KM: "Commit to a treatment that's going to stand out & serve its audience, don't ever just follow the pack. Always build this on a solid foundation of Who, What & Why. Who is the advert targeting? Do you intimately know your audience? What do you want them to do? Have you kept it simple? And lastly, why should they do it? What is the benefit to them? This isn't about you remember, it's always about them. "
***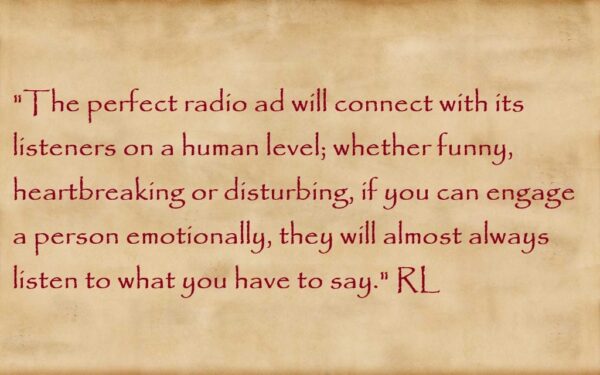 ***
GF: "A script that makes you laugh, makes you cry or gives you goosebumps, narrated by a voice that's so compelling that you want to find out what happens next."
***
PM: "The perfect radio ad is the one that talks to and connects with the intended audience. So it might NOT be the one with the biggest celeb, most expensive music or the heaviest ad spend.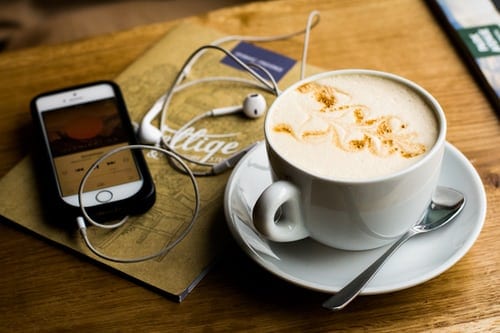 I've mentioned that radio is intimate, it's often a solo experience. I was reminded of this when I was on the Cannes radio & audio jury last year, all the entries were put on tablets and for 3 full days each juror was in their own little world with the material presented just for then. It really reminded me how that can backfire. Ads that are too intrusive, or too oblique for that matter, lose listener attention quickly.
Think of on air wear out too; if just one script is repeated endlesslythe listener will grow irritated (even if it's good). Again I can highly recommend Radiocentre, they havean extensive, easily searchable database of radio spots so it's worth looking at what's beendone in the various sectors."
***
JM: "Depends on what you're aiming to accomplish!
Are you trying to grow your brand by incorporating audio into the messaging, and have listeners relate what they hear with you? Or are you trying to move product and services, and want that delivered in a clear, concise manner to try and get feet through the door/clicks on your site? Something can sound great, but if it doesn't solidify your brand's identity or have a positive impact on the bottom line…"
***
PB: "Making sure it's not produced by Global or Bauer" !! (Well, I guess I did ask, eh?!)
***
NEED EVEN MORE FACTS?
If statistics & cold hard numbers what you're after, look no further than Rajar, the official body in charge of measuring radio audiences in the UK.
If you didn't really care about radio or audio before, perhaps you're beginning to think differently now? So often we're told that 'it's all about video these days', but hopefully we've helped to illustrate that it would be a mistake to forget about our old friend the radio, audio & the mighty power of sound.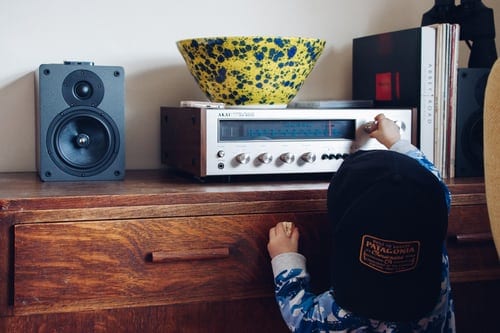 STAY TUNED!
Because in part 3, I will be asking:
What do you need to consider if you're thinking of advertising on the radio?
And if the thoughts & ideas shared by the wonderful contributors to this blog have inspired you, remember, you don't have to venture out alone, there are some cracking creatives out there who will cook up the perfect campaign with you. And of course, if you need a voice, look no further! Drop me an email – mail@sarastarling.co.uk and let's talk.
**********************************************
With enormous thanks to Pam Myers, Rick Loynes, Gerry Farrell, Olivia Downing, Tim Fortune, Kieran Murphy, James McCombe and Paul Burke.