What the heck do dogs & voice over clients have in common?!
Dogs voice over clients & waggy tails? Well, I am writing this on International Dog Day! Yep. The bottom line, is that we all enjoy working with lovely people! It makes all the difference. Dogs don't ask for much – companionship, walks, food, water, a game or two and, of course, tummy rubs! (I'm not suggesting that you start rolling over & asking to have your tummy tickled mid voice over session, but a virtual waggy tail is a very good thing indeed!)
And you, dear voice over client?
You appreciate:
Great communication

Someone who delivers what you ask for – & possibly what you don't, just so you have options.

You appreciate someone who's open to direction, who's interested in your brand, your business, your project, your commercial.

You might also appreciate a chat & a giggle along the way, or you might just like swift, clean efficiency. Sparklingly clear audio goes without saying!                                                                                                                           
On International Dog Day
it seems only right to illustrate this with a tale – or should that be tail…?
Yesterday, Posie the studio dog went to see her favourite vet for a jab. They've bonded. During lockdown, humans haven't been permitted to accompany their wee timorous beasties into the surgery. And yes, Posie is a wee, timorous beastie, unless there's a wheelie bin, a ladder, a trailer, or any other scary, noisy thing in the vicinity! So, Posie has learnt to trust Jenna the vet.
First things first, roll over, have a tummy rub & make sure Jenna has the appropriate high value treat (dutifully handed over by her human). Then, walk into the surgery, tentatively, but happily. Return jabbed, head held high, tail wagging, a sense of achievement & demanding more treats!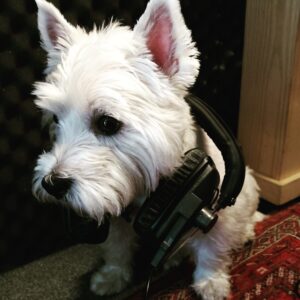 "We only work with lovely people."
I'm increasingly seeing this phrase on the websites that I visit. Well, let's face it, in a fractured world, in which much is virtual, working with lovely people is important.
Life is short, it can be stressful & messy. It feels as though there's never enough time. That's why working with people who aren't just great the job, but are lovely with it, has become increasingly more important. Just as I enjoy giving Posie, the studio dog a happy life, I like to do the same for you when we work together, dear client. Those little chats before & after a session, are bonding time. A sort of virtual tail wag or tummy rub, depending on familiarity! (It's hard to sniff bottoms down the line – just as well, really!)
After 30 odd years, I can read the room, even if I can't see you. I sense when time is short, or when a chat or an alternative read would be helpful. If you feel good about the work we've done together, well, that's the equivalent of a tummy rub for us both! And if you haven't worked with a voice over artist before, fret not, I will lead you through it. In fact, this article might help: Tips for working with your voice over artist.
Alas, poor Posie won't have any more official tummy rubs from her favourite vet, because Jenna is leaving, but no doubt we will bump into her on our walks. Yes, we are sad, but Posie's brilliant at bonding & loved by all at the surgery, so I'm sure she'll be just fine.
To new relationships…
Just as Posie is open to new relationships, I am, too – in fact, I'm always open to working with lovely new clients! Sometimes I even send treats…..dried liver anyone?!
If I can help with your next project, just get in touch & let's get some tails wagging!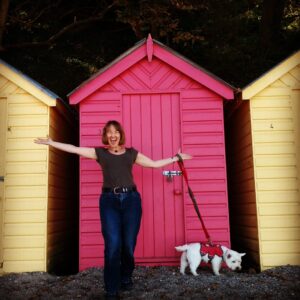 You'll find voice over demo reels here and I'm just a click or a call away!