I'm 5 years old, or thereabouts. I'm dancing around the lounge to the Top 40 on BBC Radio One. Didn't we all back then? The next minute, I'm standing in front of a reel-to-reel machine, microphone in hand, saying "Please can you play a request for me & my monster brother Simon." Yes, my big 100th BBC Birthday thank you spans decades and centuries, too!
These were the first words I uttered on BBC radio. And Ed Steward duly played The Monster Mash, much to my delight. Cue more dancing. I was hooked! Listening, watching, absorbing, the BBC seeped into my veins – the seed was planted. But…
Oh. The school careers advisor says "You want to join the BBC? You'll never get in."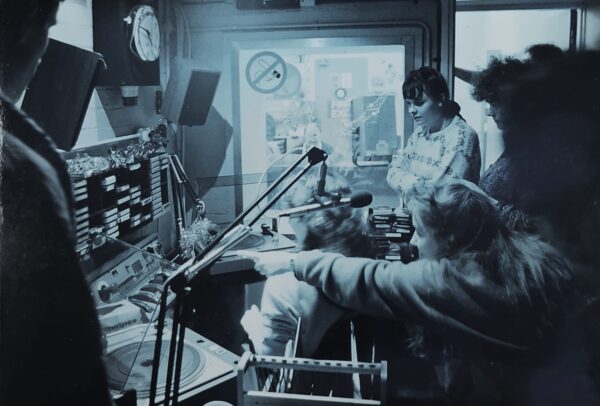 A couple of years later, I'm standing outside BBC Broadcasting House with my dad & he says "You never know, you might work there one day." The university careers advisor tells me this is highly unlikely. "The best way to get into the BBC is via the typing pool", say two besuited middle-aged male BBC employees at a careers fair. This is 1989 not 1923, I think to myself!
The day I sat my finals, the letter landed & I waved it in the air, victorious! "You've been offered a job as a Trainee Studio Manager at BBC Broadcasting House in London."
And so you see, I can't let the BBC's 100th Anniversary pass by without a mention.
What has the BBC done for you?
It would be no exaggeration to say it's literally shaped my life.
It inspired me to pursue my passion for speech & sound.
It taught me the skills I still use today as a voice over artist.
It gave me friends for life.
And a husband, too.

It made me see hours of the day & night I'd never choose to see!
And made me feel as though I had permanent jet lag.
It held me in awe as I felt the history, walking along secret corridors below ground between buildings, stumbling upon a room filled with camp beds, probably dating back to the second world war.
But what did you actually do at the BBC?
As a BBC Radio Studio Manager, the BBC gave me the opportunity to work with some incredibly talented people on both sides of the glass across Radios 1,2, 3, 4 and 5. It took the time to teach studio etiquette, too! Including never asking for autographs or taking photos of people. So sadly, I only have a handful of photos.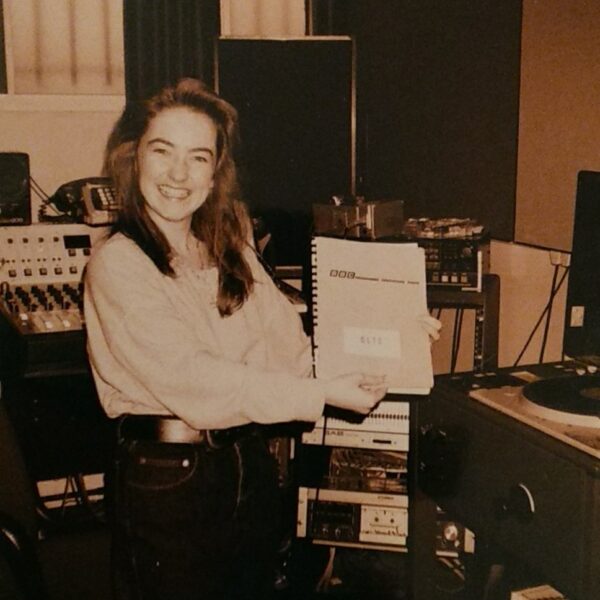 I witnessed Norman Wisdom chatting up the canteen staff, Charles Dance strolling through the corridor, Jeff Goldblum appearing in the studio, lost. I saw Sir Michael Hordern being brilliant, recorded Dame Barbara Cartland in all her pinkness and Dame Thora Hird offering a piece of her mind. As if that weren't enough, I span tapes and grams for Julie Andrews when she chose her Desert Island Discs. Yes, I worked on some of the classics we still enjoy today.
During a three month stint at the BBC in Bristol, I learnt that I was actually very fast at editing. And that I was far happier in the studio than lugging equipment around on outside broadcasts. Oh and that if you slide down that piece of rock in Clifton, you can chip a bone in your finger (ouch!).
When working with Brian Perkins, one of my radio heroes, the BBC Radio 4 announcer referred to me as "the girl with the golden hair". Sigh…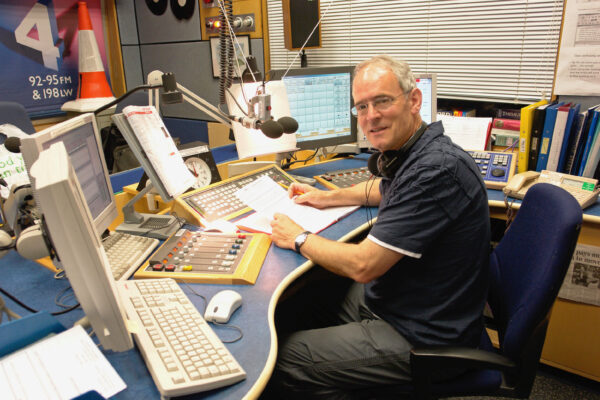 As a Senior Presentation Director/ Announcer for the BBC in Wales, I talked on the telly and the radio, whilst pressing more buttons than I dreamed possible, taking piles of programmes, trails and symbols and creating a channel. Want to hear what I sounded like back then?
I ripped up scripts, re-jigged schedules and whipped up graphics when floodlights failed. All whilst calculating complex timings in my head so that I could hit Newsnight on time. I may have even edited the credits of one particular programme live on air the day the Welsh Assembly opened because Dame Shirley Bassey sang for a little longer than expected!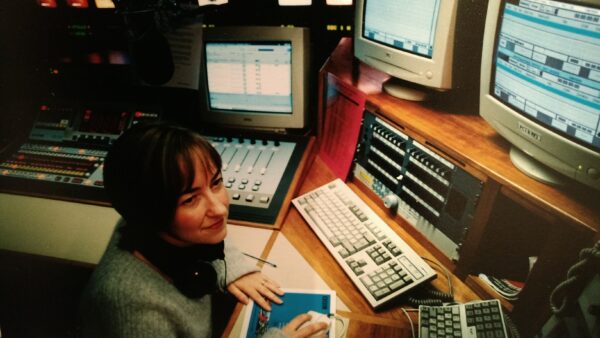 I experienced the joy of announcing and news reading for BBC World Service at beautiful Bush House, including the slow speed news for learners. Have you ever heard the deafening heart beat of a little bird, dashing along a maze of corridors, due on air in seconds? It's loud! And yes, the pain of being unable to sleep during the day after nightshifts! I even read the shipping forecast on Radio 4 with a cleaner emptying the bins around me.
The BBC gave me massive rushes of adrenaline when things fell off the air, presenters didn't appear and equipment failed. But it also gave me the skills to work around all of those things, so viewers & listeners never really noticed.
In recent years, I've had the joy and privilege of providing coaching for various departments at the BBC and was the presentation advisor for the brilliant radio & podcast series Girl Taken. Isn't it lovely when things come full circle?
Which also meant that I got to work with my old friend and fellow BBC trainee Richard Hannaford in the studio again. Happy days!

Do you know, the DG even sent a signed letter of sympathy when my mum died (I was 23), back in the days when it was Auntie to the core?
In conclusion, as the BBC celebrates its 100th Birthday…
I could talk about TV. Big Ted, Little Ted and the arched window. Ah yes, Playschool! The Wombles – ahead of their time when it comes to sustainability. Paddington Bear and the glorious voice of Sir Michael Hordern. I seem to remember I wrote my own Paddington story in the dim & distant past. I could wallow in the brilliance of The Singing Detective, W1A and The Detectorists. Or radio and journeys to school in the company of Terry Wogan or the world's longest running soap opera, The Archers. Not forgetting the delicious Conversations from a Long Marriage, and the fascinating Life Changing on BBC Sounds. But that's just the start. Many of us have enjoyed those programmes, and so many more.
The bottom line? It'll come as no surprise when I say I'm proud to have been a part of almost a quarter of the BBC's centenary, working across TV and Radio. It's trained an awful lot of people over the years, including me!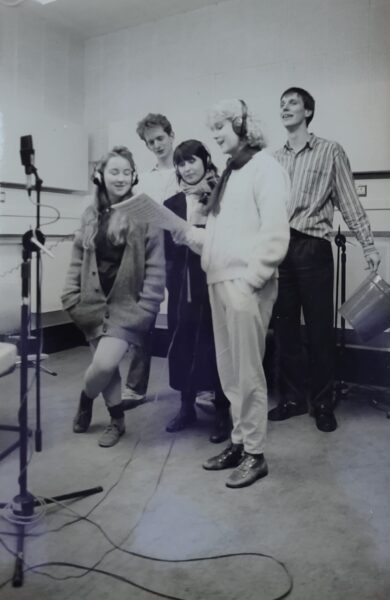 It's a big, beautiful shop & for all its faults, it's a remarkable institution.
And the best bit?
it's ours.
Yours & mine.
I think we should keep it, don't you?

(That said, I'm glad I no longer have to get up at 04.30 or fall into bed at 3am and I don't envy my husband the crazy hours he still works at that place that's been like a second home to us both.)
Happy 100th Birthday BBC!
To hear what I'm doing now, hop over to my demos page! Rest assured, I have all the experience you need for your next project. So, shall we…..?